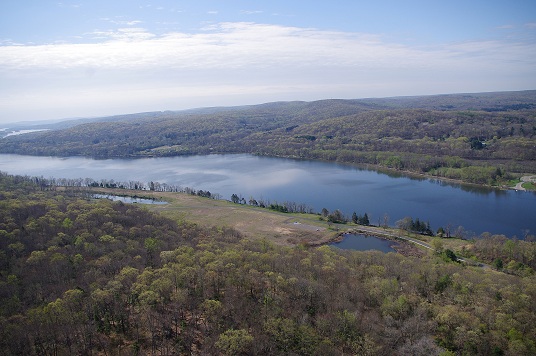 The Connecticut Yankee Atomic Power Company (CY) completed radiological groundwater monitoring in June 2007 fulfilling the requirements of the License Termination Plan, as required by the Nuclear Regulatory Commission (NRC). With this sampling program completed, CY was granted License Termination from the NRC on November 26, 2007.
To continue on the path to site closure, CY also closed its Resource Conservation and Recovery Act (RCRA) permit under the Environmental Protection Agency (EPA), moving closer to site closure. In October 2007, the Connecticut Department of Energy and Environmental Protection (CTDEEP) approved a stewardship permit for the CY site, indicating that remediation of non-radioactive contaminants was complete and that the only remaining activity was groundwater monitoring. The stewardship permit was issued after all required corrective action measures were completed and all sampling procedures were implemented to monitor groundwater quality.
The CTDEEP groundwater monitoring program began following final site grading in June 2007 and continued under CTDEEP oversight until 2013 demonstrating no CY related radioactivity or chemical contamination above the approved remediation criteria. The CTDEEP approved CY's plan to terminate the groundwater monitoring program in March 2014, and in July 2014 CY requested termination of the stewardship permit. Following a public comment period and public hearing, on September 19, 2014 the CTDEEP issued a letter of completion and final determination to terminate the stewardship permit. On May 19, 2015, the CTDEEP issued the Certificate of Completion. This was the last step needed to terminate the Stewardship Permit and document CTDEEP approval of the restoration of the site to unrestricted use. CY was one of the recipients of the GreenCircle Award established by the CTDEEP to recognize businesses, institutions, individuals, and civic organizations who have participated in projects that promote natural resource conservation or environmental awareness. The award that was presented at a ceremony on December 2, 2015 in Hartford recognized the completion of the CY post-remediation groundwater monitoring program and the CY Stewardship Permit that documented the successful environmental restoration of the former nuclear reactor site and the completion of all the required federal and state corrective action measures necessary to release the site for unrestricted use.
For additional information go to the document room. For copies of annual environmental monitoring reports please contact ISFSI Manager Rob Desmarais at 860-267-6426 extension 306.
⌃